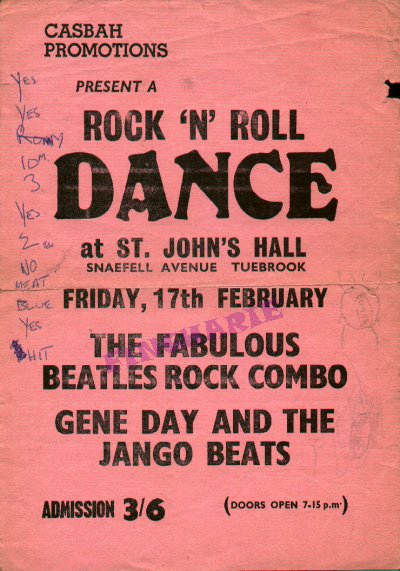 Poster advertising the Beatles to play at St. John's Hall, Tuebrook.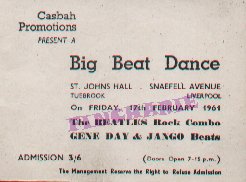 Ticket for the performance at St. John's Hall




Under the billing of the Fabulous Beatles Rock Combo and Gene Day and the Jango Beats, the Beatles played for the first time at St John's Hall, Snaefell Avenue, Tuebrook, Liverpool on Friday, 17th February 1961, which was promoted by Casbah Promotions. For this performance the Beatles were paid GBP20, which was well above the normal fees that were being paid at the time.
The entrance fee for this gig was 3/6d.

After the Beatles returned to Liverpool from their first season in Hamburg, Mona Best became the Beatles unofficial manager searching for gigs for the band to play, in and around Liverpool, as well as allowing them to play at her own Casbah Club at West Derby, Liverpool. While managing the Beatles, Mona Best formed Casbah Promotions with her son, and former Beatle Pete Best, so that they could promote dances at Knotty Ash Village Hall and St. John's Hall as well as at the Casbah Club and the Beatles played regularly at all three venues.

The pink coloured poster with black lettering seen here measures 10 1/2"x15" and on the reverse is a rough advertisement drawn out in pale green watercolour for the Big 3. The poster was the property of Pete Best, who was playing for the Beatles at the time.