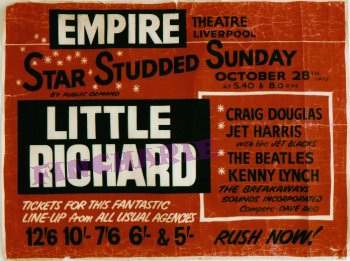 Poster advertising the Beatles performance at the Empire Theatre, Liverpool

The 28th October 1962 was the Beatles first official appearance at Liverpool's premier entertainment theatre, the Empire Theatre, Lime Street, Liverpool. The Beatles were one of the acts supporting Little Richard

The Quarrymen had apppeared here as early as 1957, but only as part of various talent shows.

The Beatles first appearance was as part of an eight act 'Star Studded Sunday' entitled the Pop Package Show, which was produced by NEMS Enterprises and Ray McFall of the Cavern Club who presented Little Richard at the Empire.

In order of appearance, Compere Dave Reid, followed by the Breakaways, the Beatles were the third act to perform and played four songs. The Beatles stayed on stage and acted as backing band for Craig Douglas as well as performing themselves. After the interval came Sounds Incorporated and then Kenny Lynch. The ex Shadows bassist Jet Harris then performed with the Jet Blacks and the final act was Little Richard.

There were two shows that evening which started at 5.40pm and 8pm.
Brian Epstein tried to book Sam Cooke as a last minute 'surprise quest', but Sam Cooke was otherwise engaged.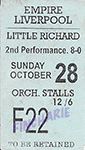 Used ticket for the Beatles performance at the Empire Theatre, Liverpool